Profile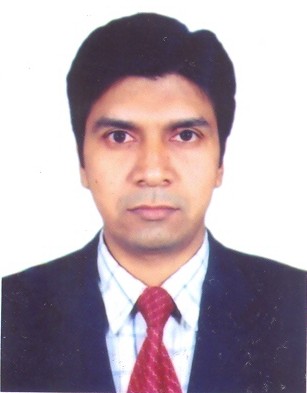 Ajoy Roy
Assistant Manager (Lab.)
Details
1. M.S. in Biotechnology & Genetic Engineering, Khulna University
2. Bachelor of Science in Biotechnology, Khulna University
3. Higher Secondary Certificate (H.S.C), Govt. P. C. College, Bagerhat
4. Secondary School Certificate (S.S.C), Chunkuri High School
N Tanjia, N Akhter, A Roy, M S Akhter, M Ahmed, S Islam, 2019. Bacteriological Status of Street Foods in Different University Premises of Dhaka City, Bangladesh. Bangladesh Journal of Microbiology, June 2019, Vol. 36, No. 1: 45-47.
S Islam, N Nasrin, F Rizwan, L Nahar, A Bhowmik, SA Esha, KA Talukder, M Akter, A Roy and M Ahmed, 2015. Microbial contamination of street vended foods from a university campus in Bangladesh. The Southeast Asian Journal of Tropical Medicine and Public Health, May 2015; Vol. 46 No. 3: 480-485.
Repon Kumer Saha, Syed Hossain Mahmood Tuhin, Nishat Jahan, Ajoy Roy and Priyanka Roy, 2014. Antibacterial and Antioxidant Activities of a Food Lectin Isolated from the Seeds of Lablab purpureous. American Journal of Ethnomedicine, 2014, Vol. 1, No. 1, 008-017.
S. K. Biswas, Anusua Chowdhury, Joysree Das, Ajoy Roy and S.M Zahid Hosen, 2012. Pharmaceutical potentials of Moringa Oleifera Lam.: A review. International Journal of Pharmaceutical Sciences and Research, February 2012; Vol. 3(2): 305-310.
Ajoy Roy, Subrata Kumar Biswas, Anusua Chowdhury, Manik Chandra Shill, Sheikh Zahir Raihan and Md. Abdul Muhit, 2011. Phytochemical Screening, Cytotoxicity and Antibacterial Activities of Two Bangladeshi Medicinal Plants. Pakistan Journal of Biological Sciences, 14(19): 905-908.
M. R. Khatun, Md. Arifuzzaman, A. Ashraf, A. Roy, M. S. B. Salam, and P.K Sarker, 2008. Study on Lactation Length and Daily Milk Yield of Buffaloes in a Farm of Bagerhat, Nuclear Science and Applications: 17(1&2): 76-80.
1. Biotechnology
2. Microbiology & Pharmaceutical Microbiology
3. Physiology & Pharmacology
Certifications
Onsite training course on laboratory animal science for researchers responsible for the design or conduct of animal experiments according to AEEC guidelines of icddr,b from 21 July, 2019 to 25 July, 2019 held at Laboratory Sciences and Services Division,
75th Training Programme of NITUB on the "Use, Maintenance and Trouble-shooting of Ultra-Violet, Visible and Infrared Spectrophotometer (UV-VIS & IR) held from 23-28 November 2019, at Department of Chemistry, Jagannath University, Dhaka-1100.