Bangabandhu and Bangladesh: Thoughts of Birth Centenary and Golden Jubilee
---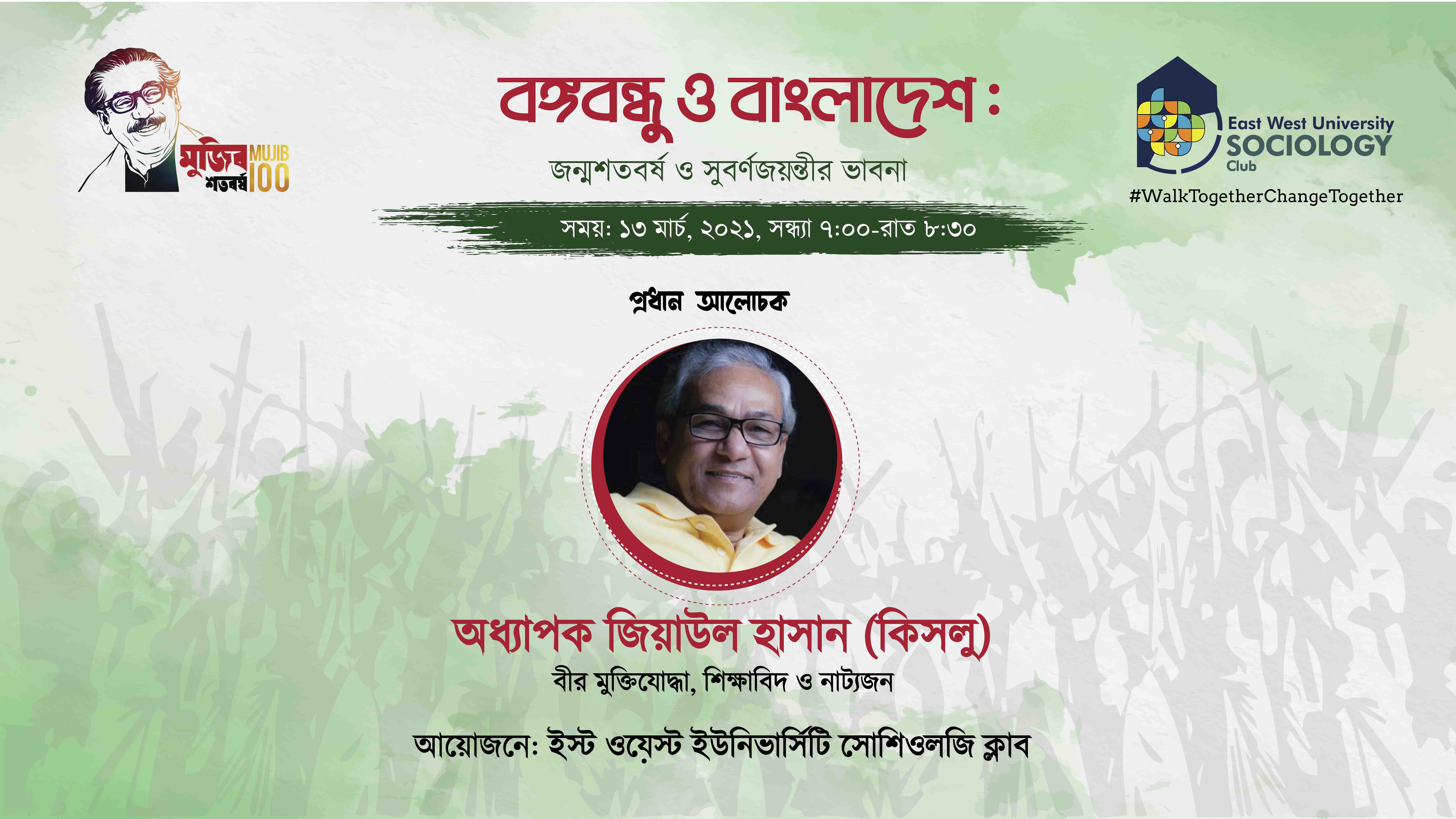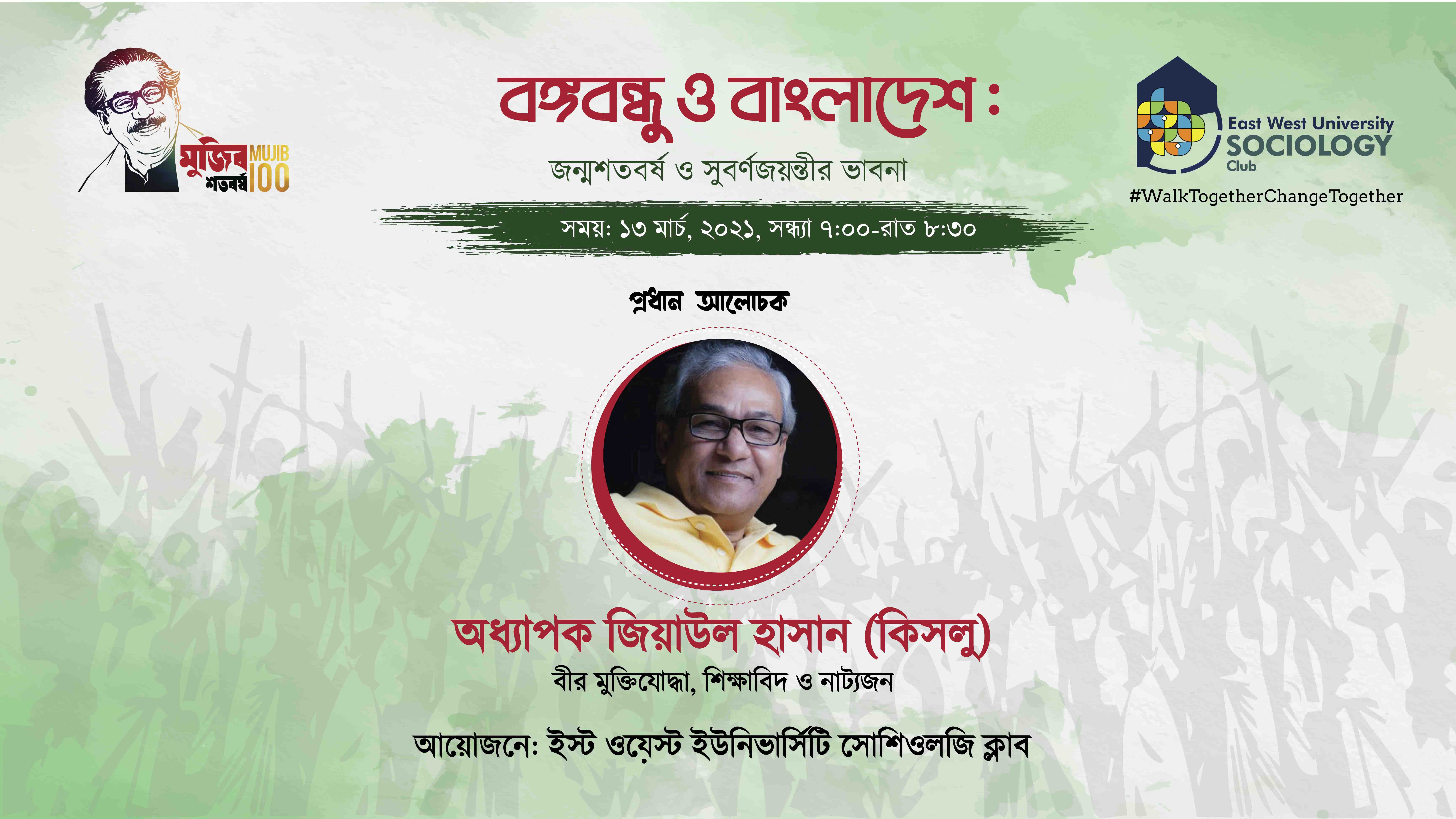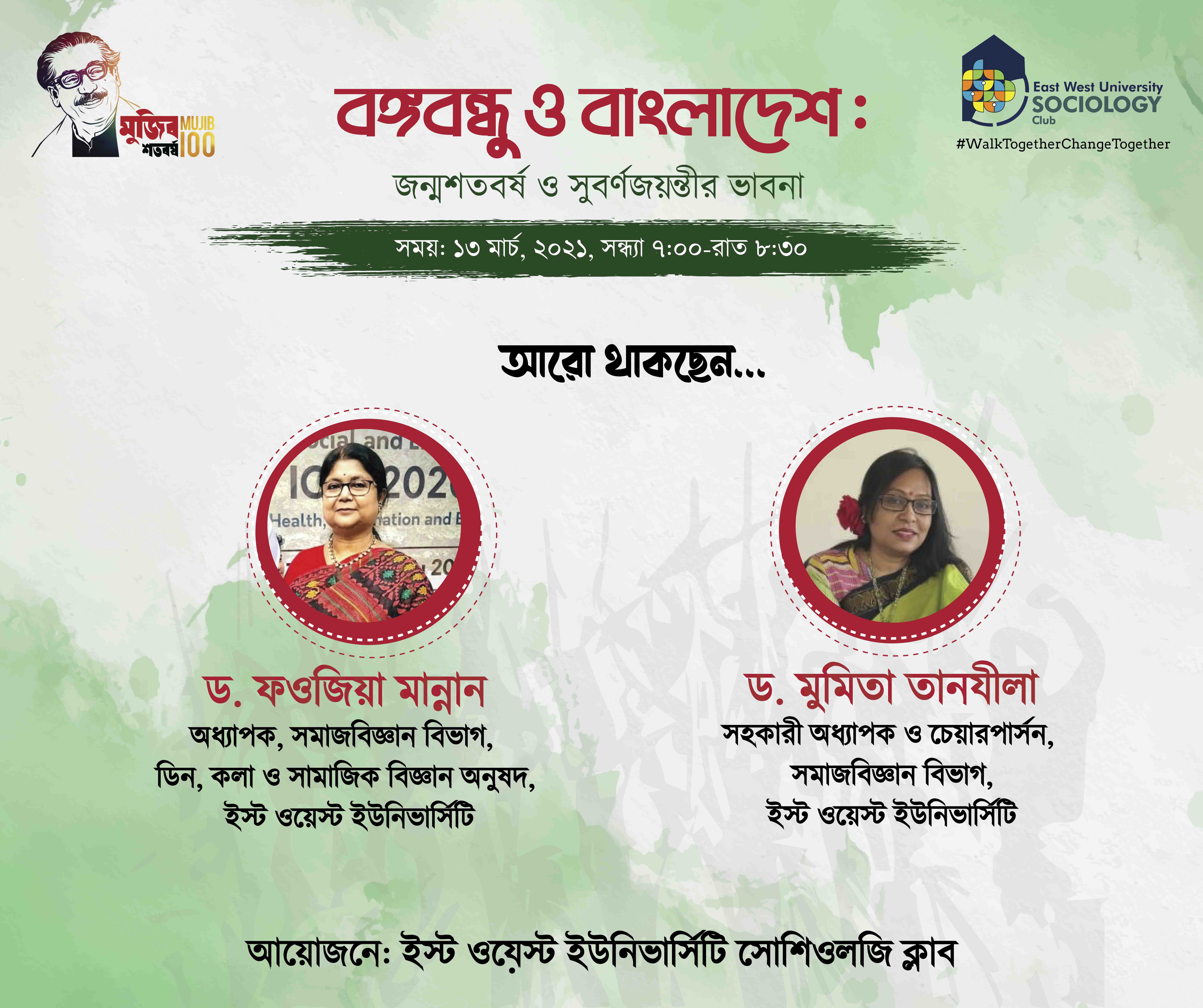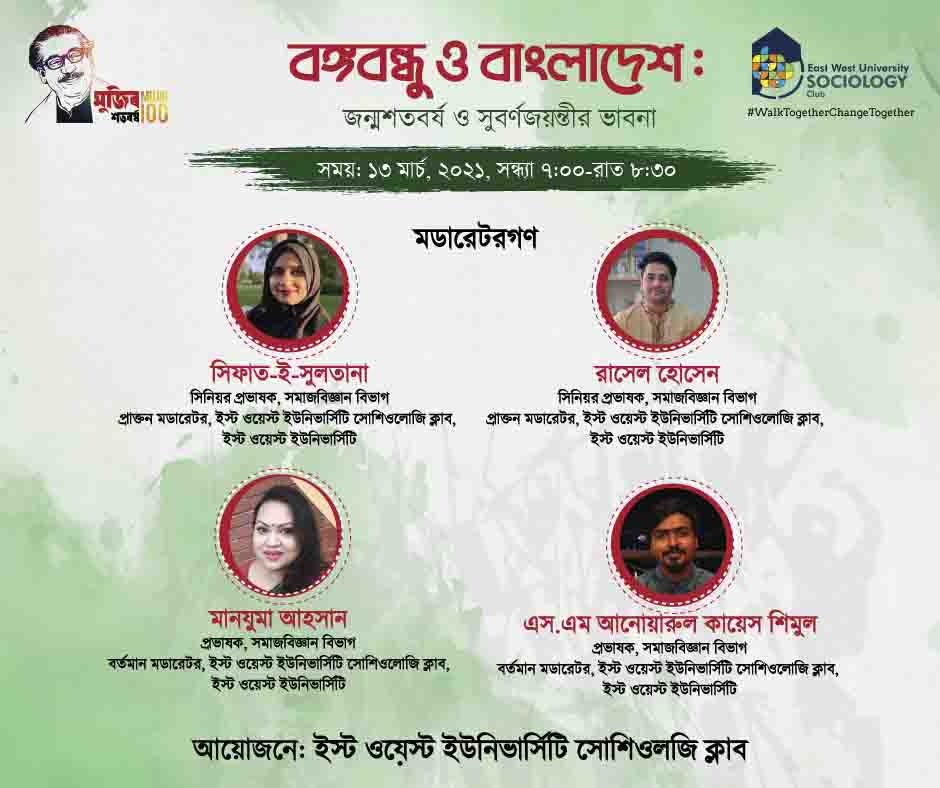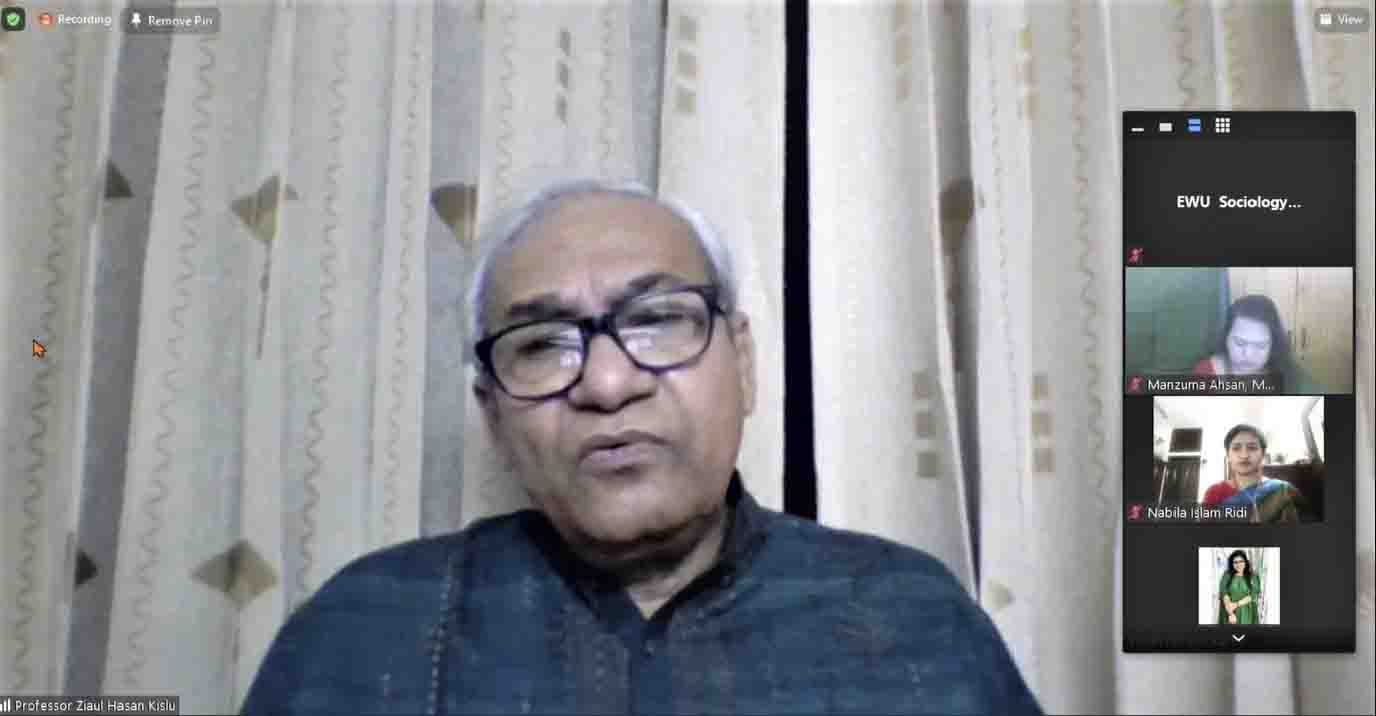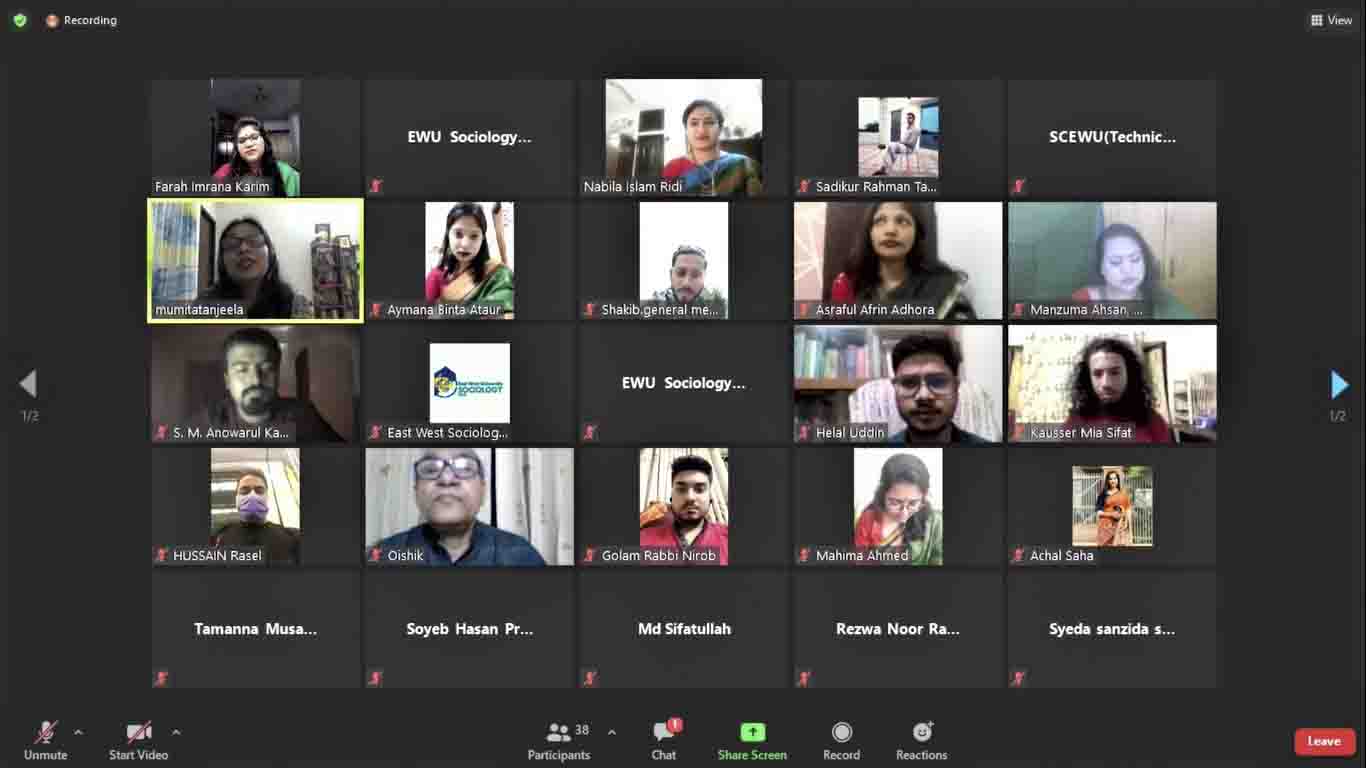 East West University Sociology Club (SCEWU) has been working passionately to promote culture, patriotism, and humanity. In this effort, SCEWU has organized a webinar entitled "Bangabandhu and Bangladesh: Thoughts of Birth Centenary and Golden Jubilee" on 13 March 2021. The occasion was graced by eminent Freedom Fighter, Educationist, and Actor - Professor Ziaul Hasan (Kislu).
Dr. MumitaTanjeela, Chairperson, Department of Sociology, EWU inspired everyone in the webinar with her gracious presence. The program was inaugurated with a cordial speech from her. She thanked SCEWU for organizing the program and aspired that such programs will create a sense of nationalism among the students. Moreover, she placed her hope that SCEWU will continue the trend of organizing such events in near future.
As the Chief Guest of the program, Professor Ziaul Hasan (Kislu) highlighted about Bangabandhu and how he became an integral part of Bangladesh and the Bangalee nationalism. He discussed the philosophy of Bangabandhu Sheikh Mujibur Rahman on social and development nexus, and above all on life. He said that the struggle forindependenceofBangladesh is an unique and unforgettable example of patriotism throughout the whole world and it was achieved with the leadership of Bangabandhu Sheikh Mujibur Rahman. This name is closely associated with our independence. He mentioned that Bangabandhu was not just a politician- he was beyond that position. To him, the non-communal consciousness of Kazi Nazrul Islam and Rabindranath Tagore has been reflected in the ideology of Bangabandhu. Like Bangabandhu, the poems of Kazi Nazrul had also inspired him immensely during the war of liberation. When Bangabandhu called for independence, a sense of nationalism emerged within him. He mentioned that Bangabandhu was a modern thinker and politician who dreamt of building a secular country. Bangabandhu Sheikh Mujibur Rahman dedicated his whole life and spent 4682 days in jail for the sake of the independence of the people. All these sacrifices have made him the 'Father of Bangalee Nation'. He called upon the younger generation to know about Bangabandhu and be inspired by his ideals. Throughout his speech, Bangabandhu's sense of patriotism, non-communal consciousness, sense of nationalism, and contribution to the establishment of an independent Bangladesh was highlighted.
After the lively discussions, the artists of the Cultural floor portrayed the glorious Mujib Year, and the golden jubilee of Independence Day through paintings, recitation, singing, and dancing. To enrich the program, a quiz competition was organized on the subjects of the Mujib Year and the golden jubilee of Independence.
At the end of the Cultural session, the ex-moderator of EWU Sociology Club, Rasel Hussain Sir shared his feelings and wished for more enriched programs in the future. Lastly, the current moderators of SCEWU, Manzuma Ahsan Ma'am and S. M. Anowarul Kayes Shimul Sir thanked every participant for making the event successful.