"Modhur Amar Mayer Bhasha: Bhasha o Ostitter Shongkot 2021" organized by EWU Sociology Club
---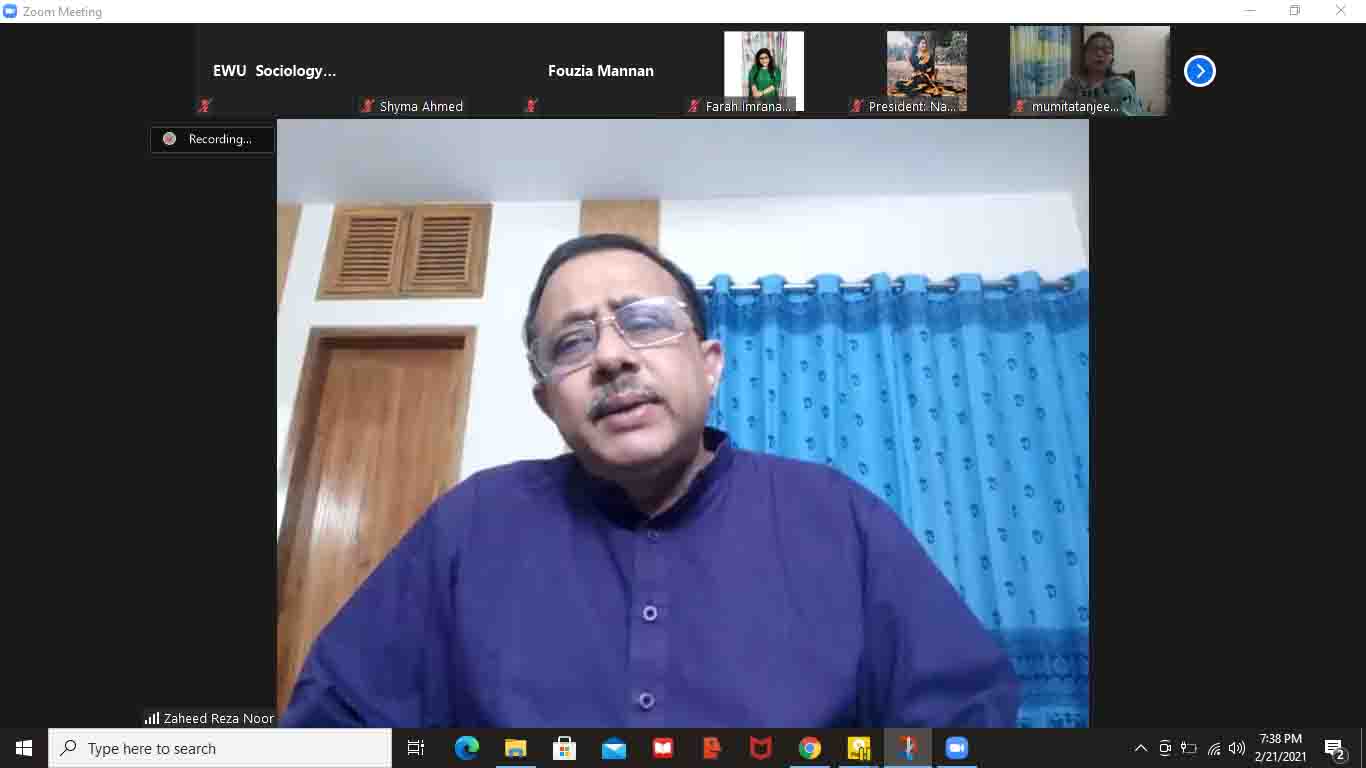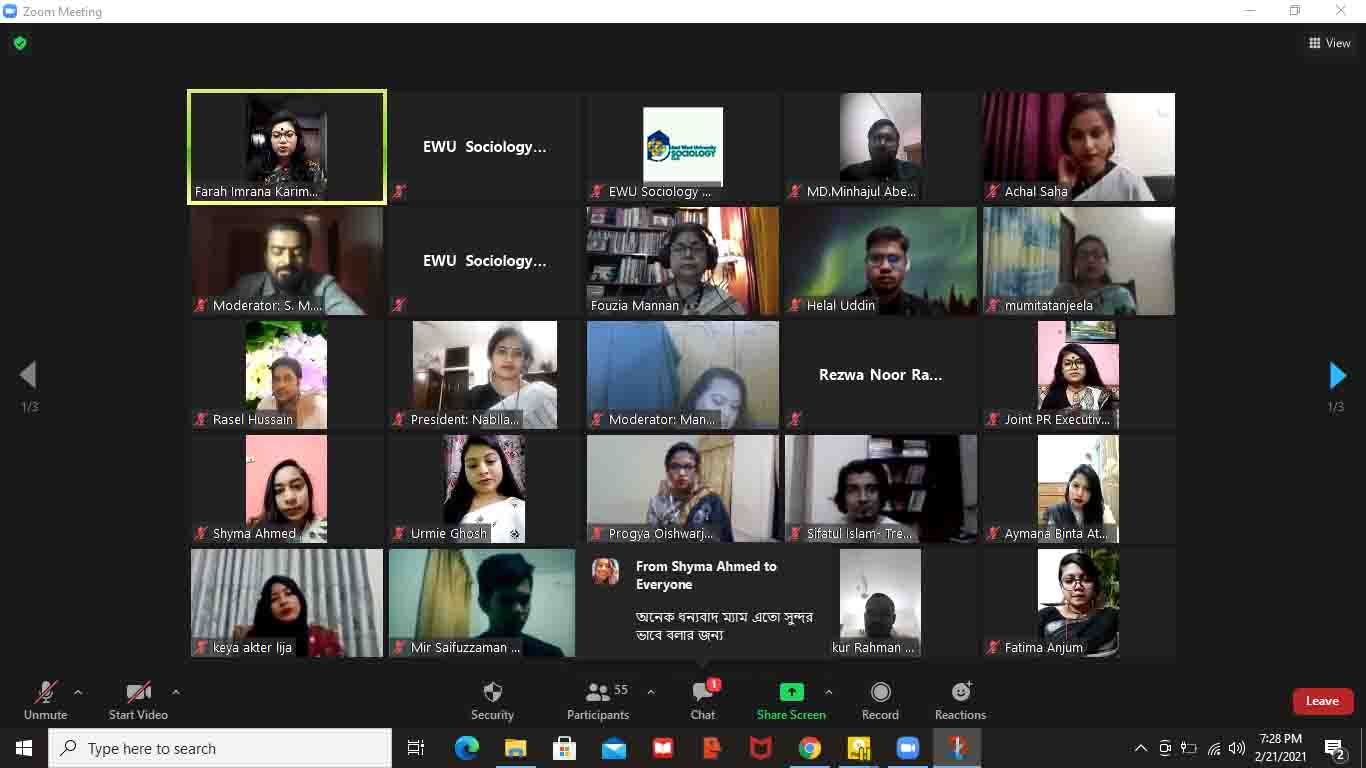 East West University Sociology Club (SCEWU) has been working passionately to promote culture, patriotism, and humanity. In this effort, SCEWU has organized a webinar entitled "Modhur Amar Mayer Bhasha: Bhasha o Ostitter Shongkot 2021" (Sweet is my Mother Tongue: The Crisis of Language and Existence) on 21st February 2021.
The occasion was graced by eminent journalist and writer - son of martyred journalist Sirajuddin Hossain - Dr. Zaheed Reza Noor.
Dr. Fouzia Mannan, Dean, Faculty of Liberal Arts and Social Sciences, EWU, and Dr. Mumita Tanjeela, Chairperson, Department of Sociology, EWU also inspired everyone in the webinar with their gracious presence.
The program was inaugurated with a cordial speech from Dr. Mumita Tanjeela. She emphasized the significance of Language in our daily lives. Moreover, she placed her hope to all by saying that the new generation will take the responsibility and be a part of protecting the Bengali language through their work . Thereafter, Dr. Fouzia Mannan thanked SCEWU for arranging the program in memory of the Language movement. She pointed out that the Bengali Language is a means of the identity of Bengali people; though this identity is under extreme threat. In her opinion the influence of other languages in Bengali Language is one of the reasons behind such a scenario. With this, she asserted that it should be the duty of the young generation to protect their language through cultural practices.
As the Chief Guest of the program, Dr. Zaheed Reza Noor highlighted the history of the movements taken up by the Bengalis in different periods of time. His illustrations started from the post-Mughal colonial period to the present day where he focused on the Hindu-Muslim conflicts that make the situation worse. At one point in the discussion, he highlighted the sacrifices and glorious history of the language movement. He also said that the language movement acted as the catalyst to establish the identity of the Bengali nation.
Throughout the whole program, the significance of 21st February and the sense of taking up responsibilities towards language and culture has been depicted by academic discussion and cultural arrangements. After the lively discussions, the artists of the Cultural floor portrayed the landscape of the sacrifice of the Language Martyrs through paintings, recitation, dances, and singing. To enrich the programme, a brief tribute was paid to the role of Bangabandhu Sheikh Mujibur Rahman in the Bengali language and language movement.
At the end of the Cultural session, the ex-moderators of SCEWU, Sifat-E-Sultana, and Rasel Hussain shared their feelings and wished for a more enriched programme in future. Lastly, the current moderator of SCEWU, Manzuma Ahsan, and S. M. Anowarul Kayes Shimul thanked every participant for making the event successful.