RESEARCH WEBINAR ON "EXPLORING THE EPIDEMIOLOGICAL, CLINICAL, AND GENOMIC FEATURES OF SARS CoV-2 INFECTED PATIENTS OF BANGLADESH: MULTI-CENTRE CROSS SECTIONAL OBSERVATIONS"
---
Jul 10, 2021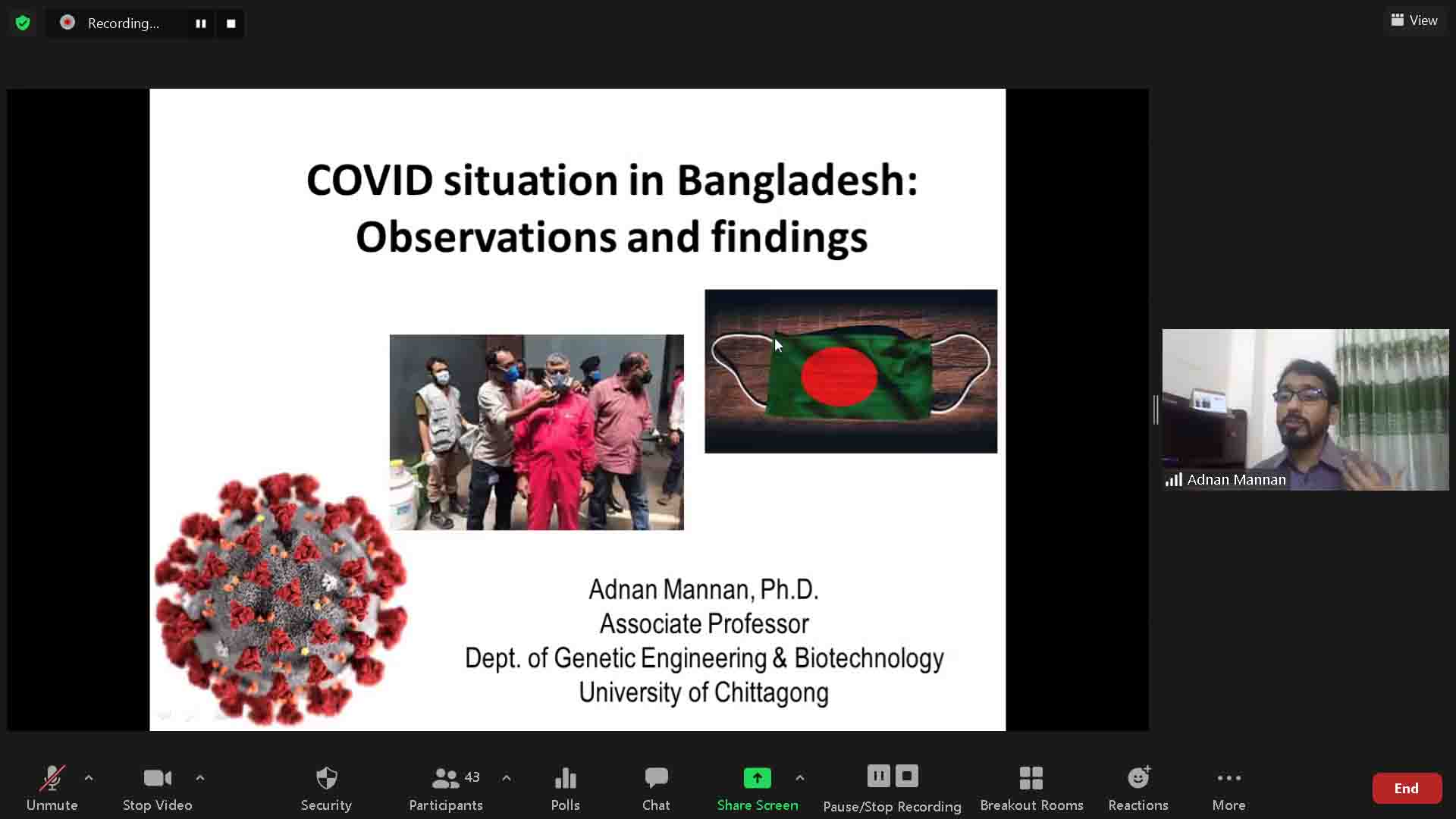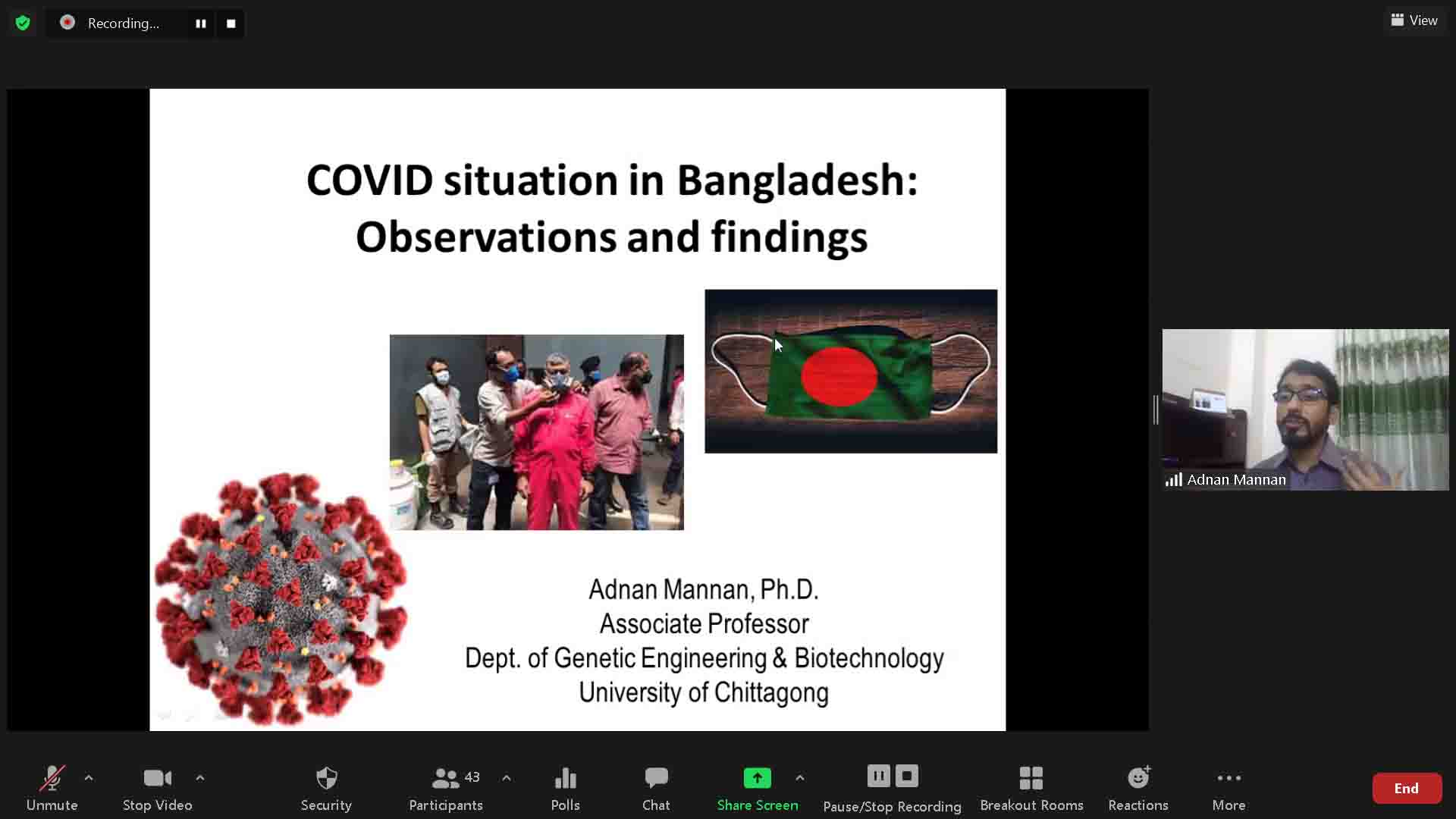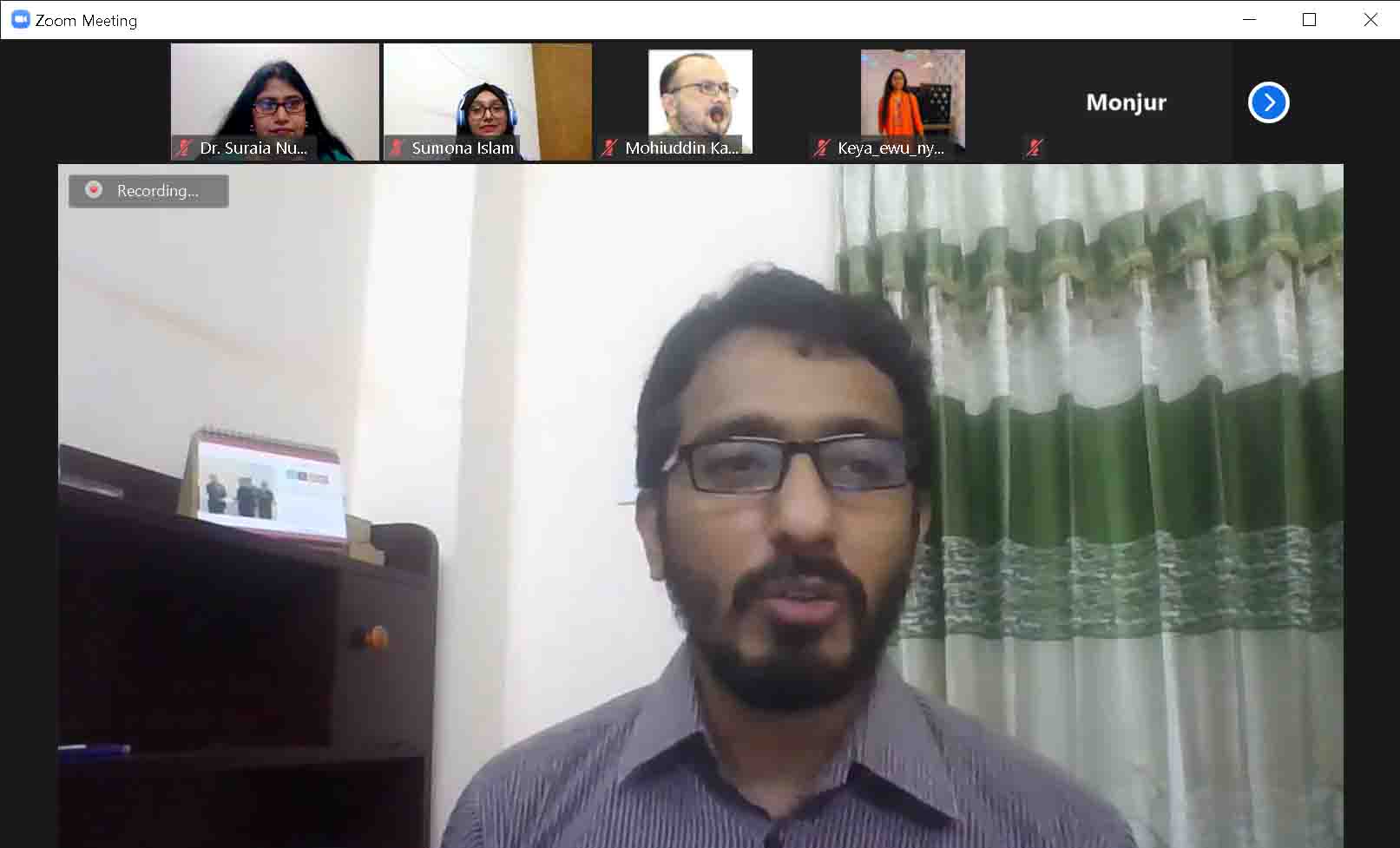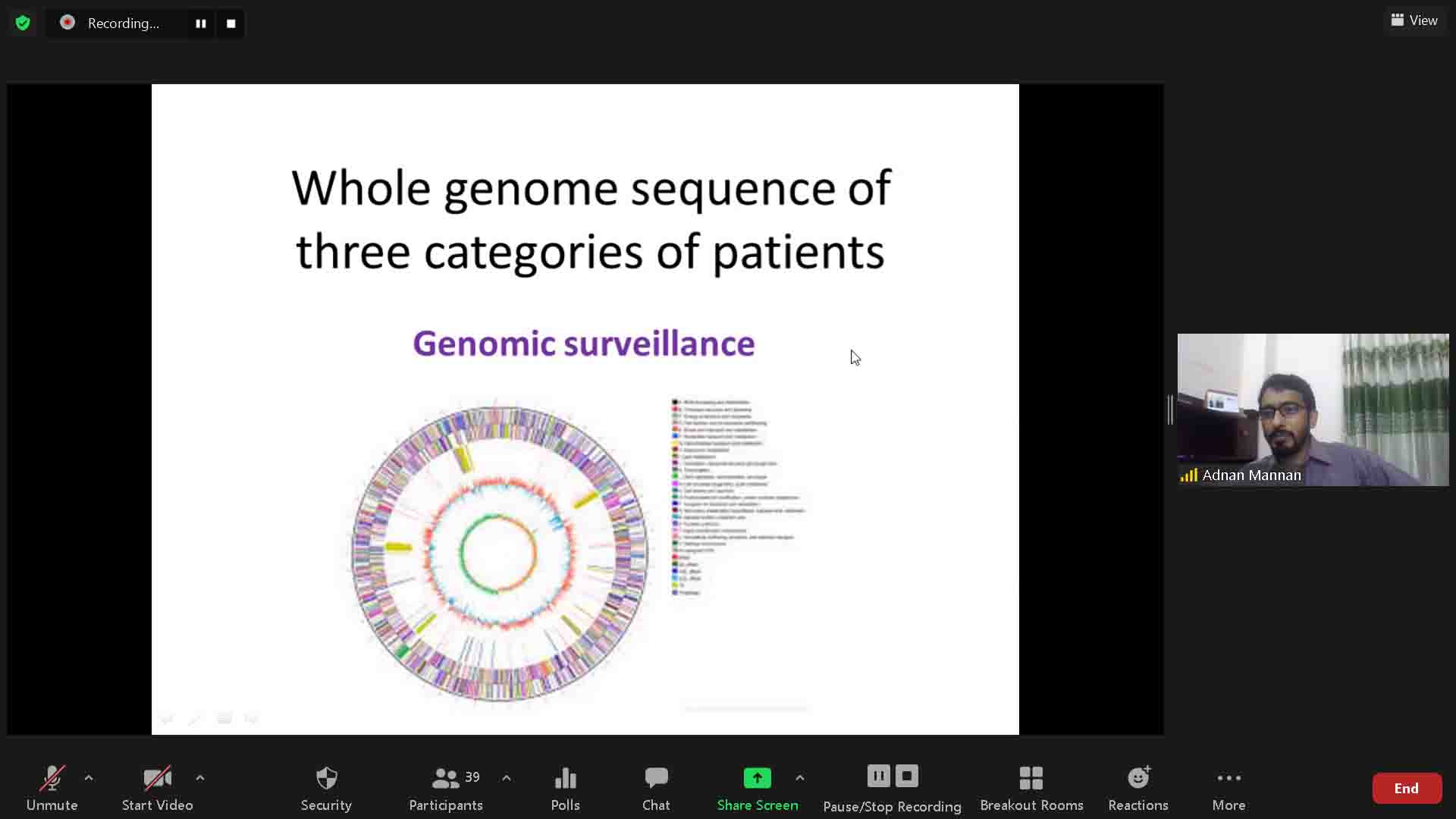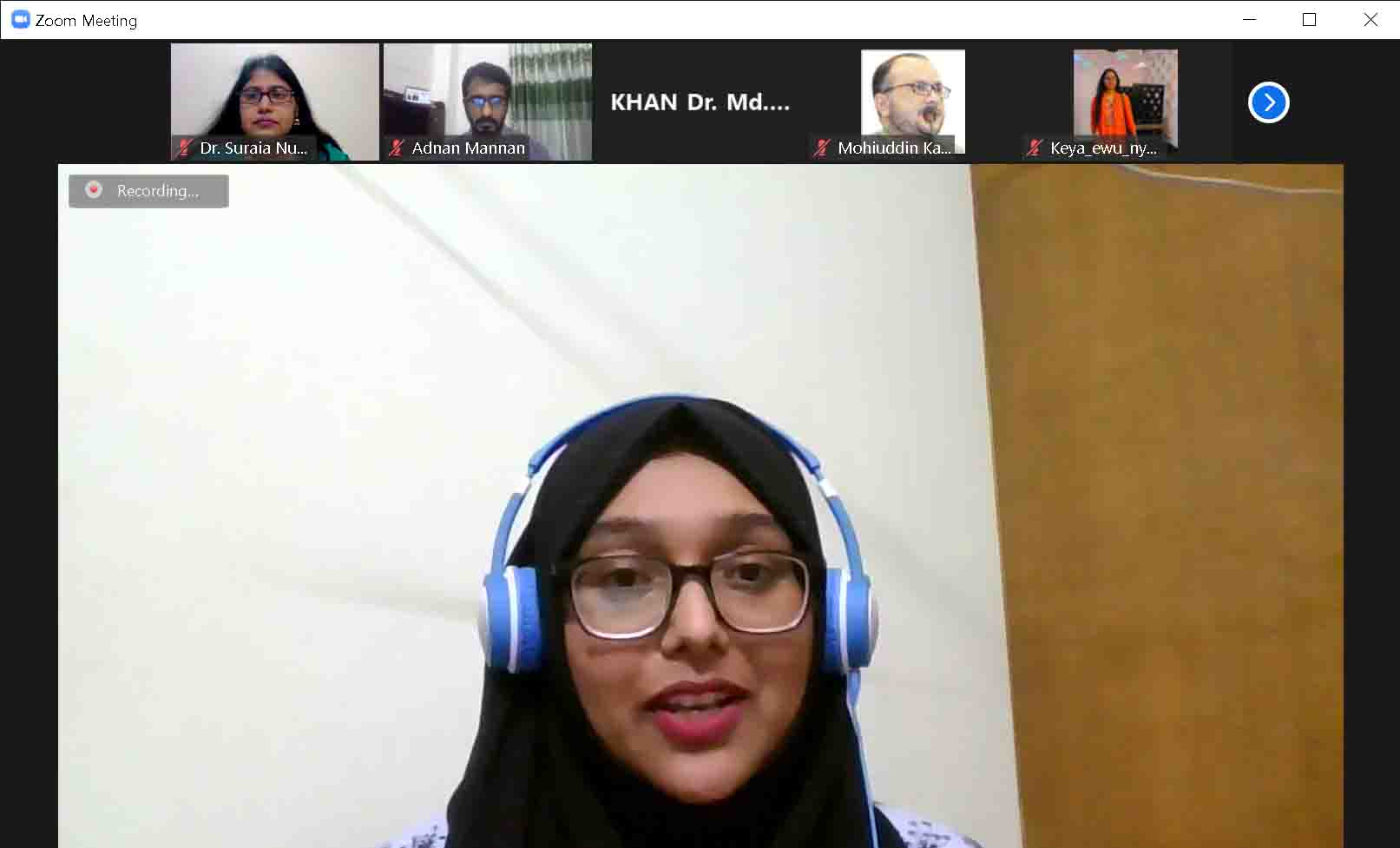 The Department of Genetic Engineering and Biotechnology, East West University has successfully organized an interactive webinar titled "Exploring the epidemiological, clinical, and genomic features of SARS-CoV-2 infected patients of Bangladesh: multi-centre cross sectional observations" on July 6, 2021. The keynote speaker of the research webinar was Dr. Adnan Mannan, Associate Professor, Department of Genetic Engineering and Biotechnology, University of Chittagong. The presentation shed light on the SARS-CoV-2 associated epidemiology and clinical outcomes as well as genomic features of SARS-CoV-2 in Bangladesh.
The program was chaired by Dr. Suraia Nusrin, Assistant Professor, GEB department, EWU. Faculty members of GEB and other departments at EWU as well as the students participated in the research webinar enthusiastically, and asked many questions to the speaker.
The research result presented by Dr. Mannan showed a rising trend of the asymptomatic COVID cases as the pandemic progresses deeper in time, and hence, deployment of interventions to curb further spread of community infection is necessary to avoid the grave outcomes of COVID-19 in Bangladesh. Genomic analyses revealed 4604 mutations at the RNA level observed among 371 Bangladeshi SARS-CoV-2 genomic sequences. The study also revealed 34 unique amino acid changes which were categorized as originating from different cities of Bangladesh. These changes in amino acids might have occurred due to rapid mutation events and/or recombination with existing CoVs in the human body. The circulation of a high number of these unique mutations in different cities indicates the possible emergence of community transmission in the Bangladeshi population.