Department of English Holds 5th International Conference
---
Location: East West University,Dhaka,Bangladesh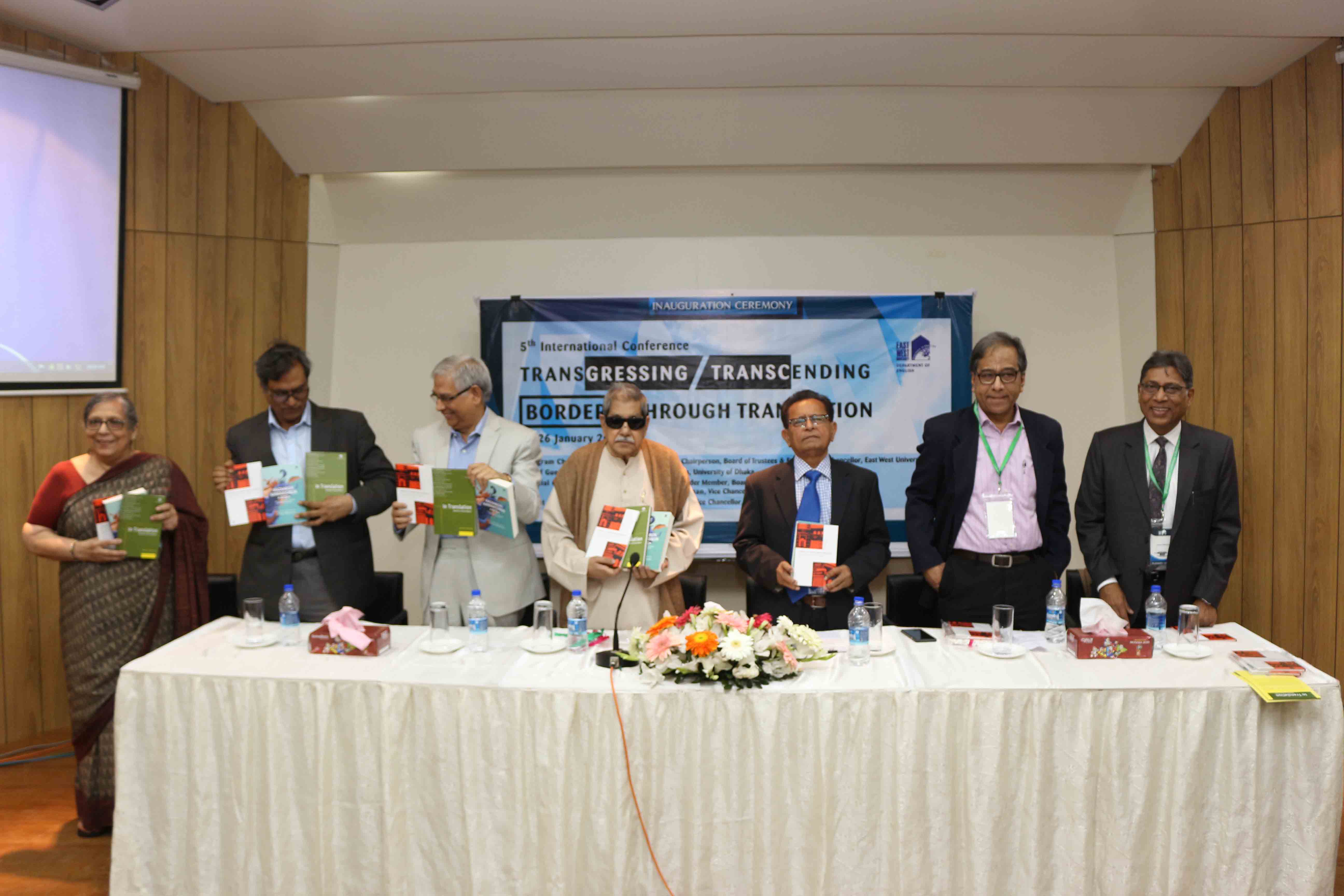 Jan 25, 2019
The Department of English successfully organized its much-anticipated 5th International Conference, titled "Transgressing/Transcending Borders through Translation" on 25-26 January 2019. The conference reflected its title's promise by showcasing forty-five papers from national, as well as, international presenters, who came from countries such as India and Turkey. A special feature of the conference was the live online video presentation by the keynote speaker Dr. Jacob Blakesley from the UK.
The inauguration ceremony was held at 9:30 am on Friday January 25 at the S.M. Nausher Ali Lecture Gallery, East West University, and was graced by the presence of Dr. Mohammed Farashuddin, Chairperson, Board of Trustees, and Founder Vice Chancellor of East West University, as the program chair. The opening was made especially memorable by the speech of Dr. Anisuzzaman, Professor Emeritus, University of Dhaka, as the Chief Guest, and also the presence of Dr. Saidur Rahman Lasker, a founding member, Board of Trustees, East West University, as the Special Guest. Professor Dr. Fakrul Alam, Pro-Vice Chancellor, East West University, also spoke on the occasion. Dr. Farzana Akhter, Chairperson, Department of English, delivered the welcome address. The ceremony ended with launches of books by Dr. Anisur Rahman and Dr. Kaiser Hamidul Haq. Afterwards, the inaugural speech was delivered by celebrated translator and professor of English Dr. Kaiser Hamidul Haq, in a lively session chaired by Professor Fakrul Alam. Later in the day, Dr. Jacob Blakesley delivered the keynote speech on the Sociology of Poetry Translation. The conference's two plenary speakers Dr. Niaz Zaman and Dr. Anisur Rahman gave their speeches on the second day of the event. A total of eleven sessions were held over two days. On both days, there were lively panel discussions on the themes of translating from Bangla into English and also from English into Bangla. The sessions were enlivened by the presence of acclaimed translators of Bangladesh such as Rifat Munim, Fakrul Alam, Sohana Manzoor, Abdus Selim, Khairul Alam Sabuj, Mashrur Arefin, Sajjad Sharif, and Kajal Krishna Banerjee.
The international event was covered by its broadcasting partner Radio Amber, and enthusiastically attended by practicing translators, faculty members and students from different universities. The conference was a boon to aspiring translators and contributed significantly to the nascent discipline of Translation Studies in Bangladesh.
---