EWU Celebrate its 21st Convocation
---
May 12, 2022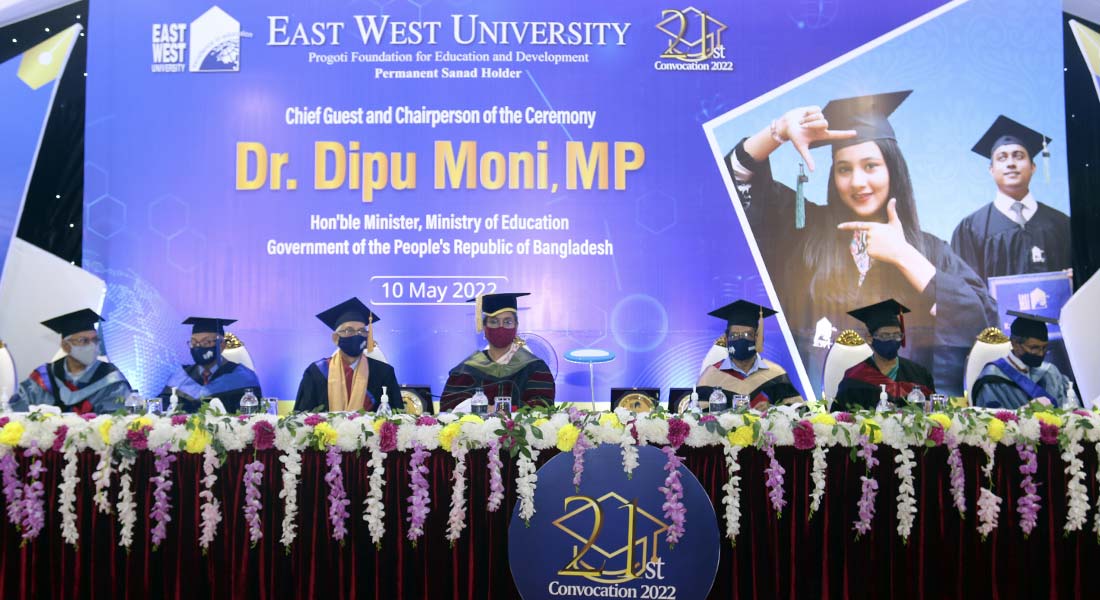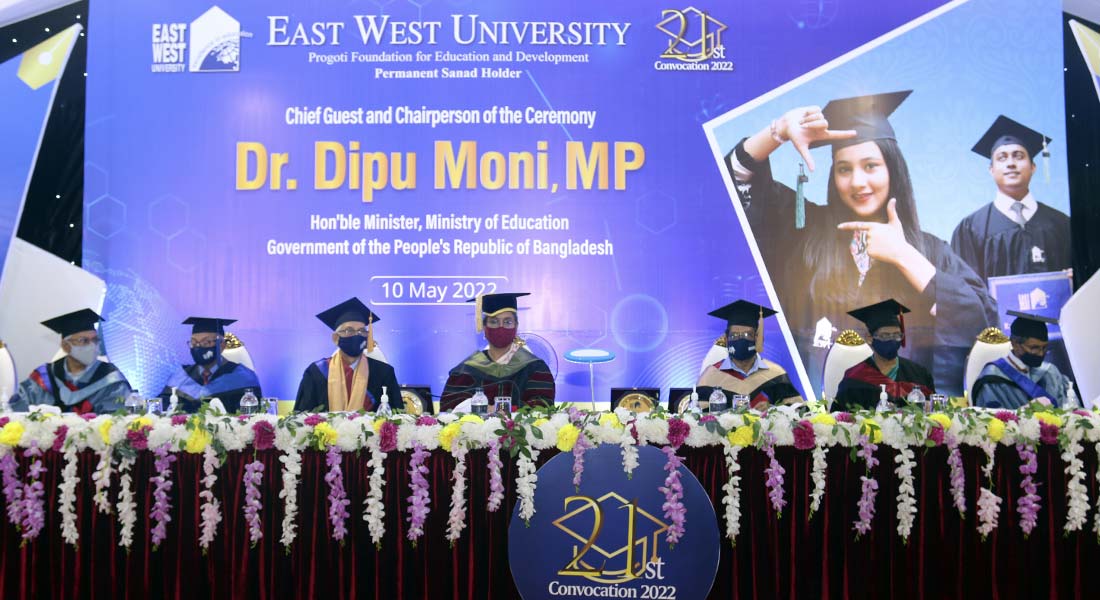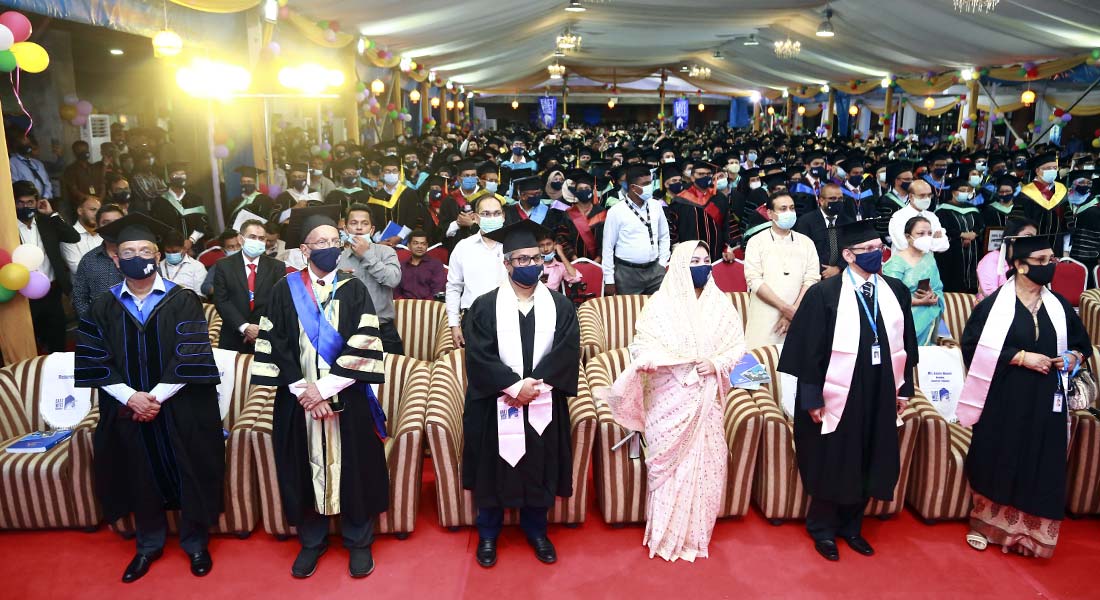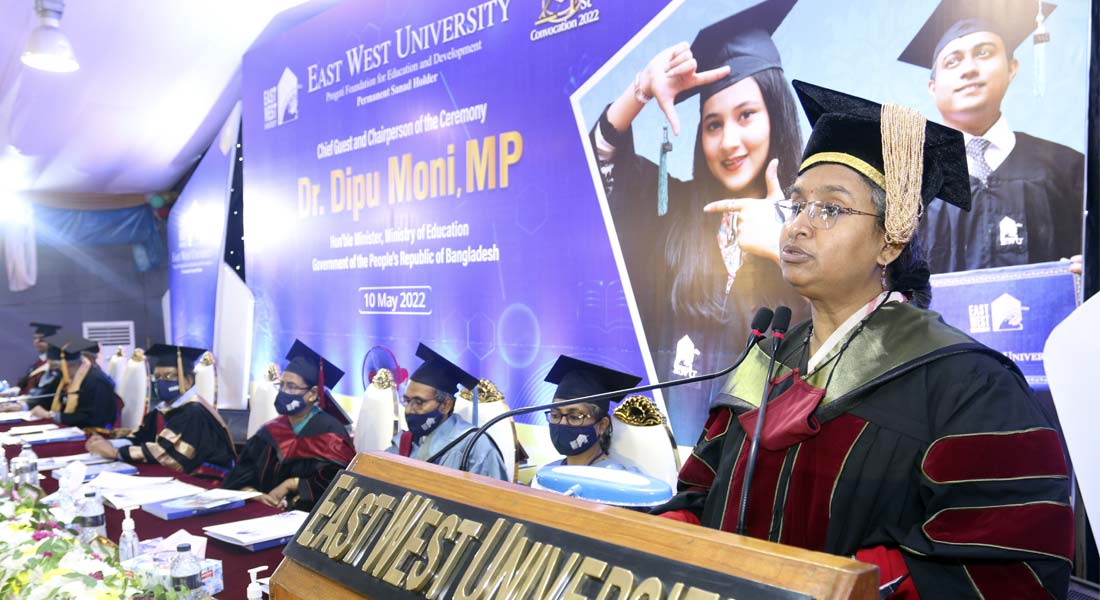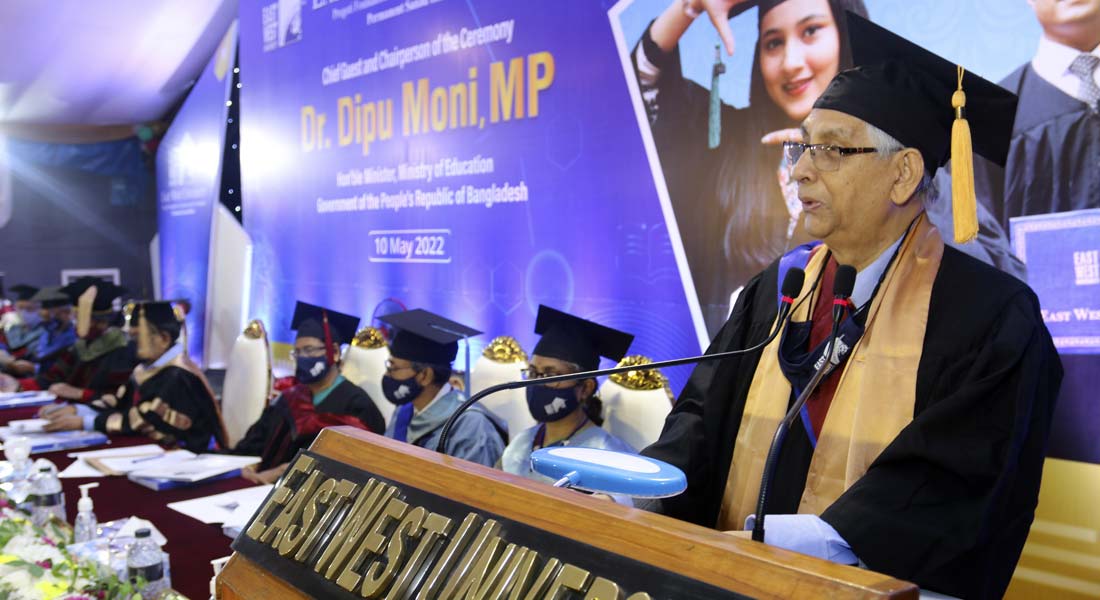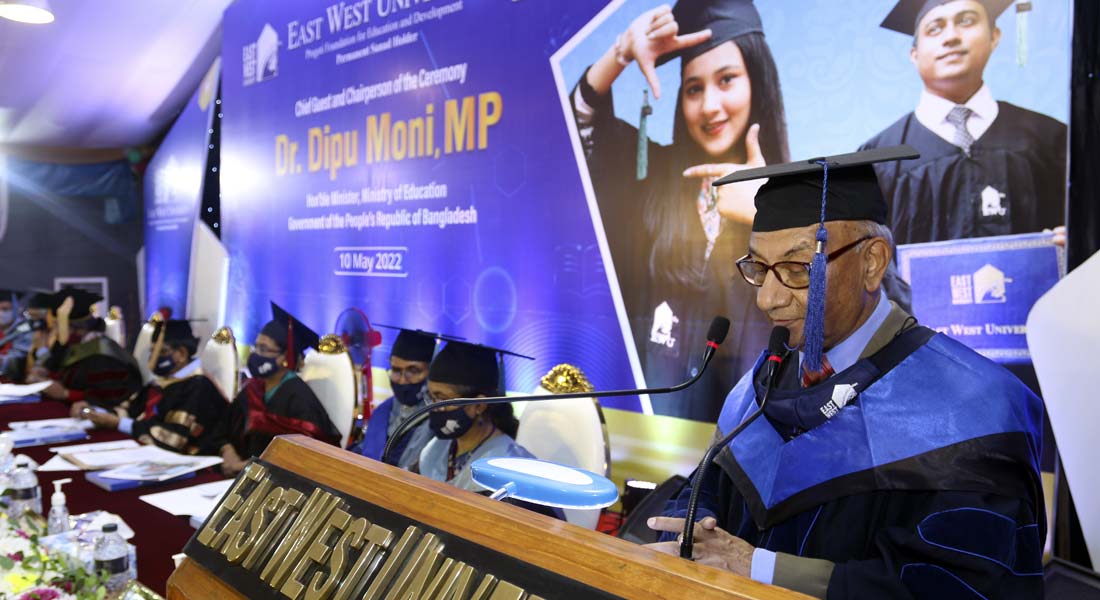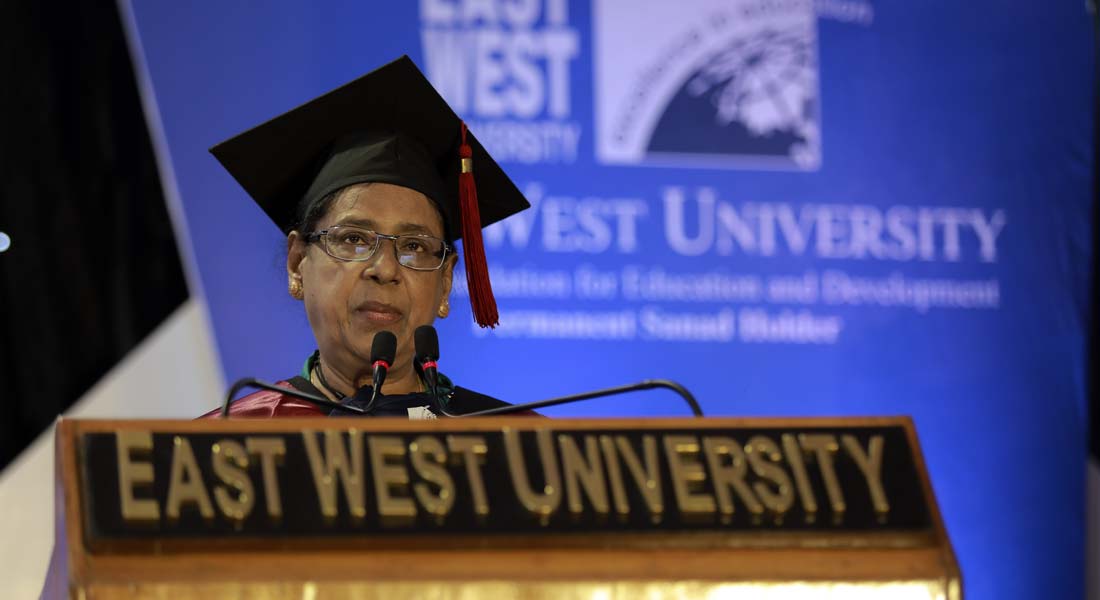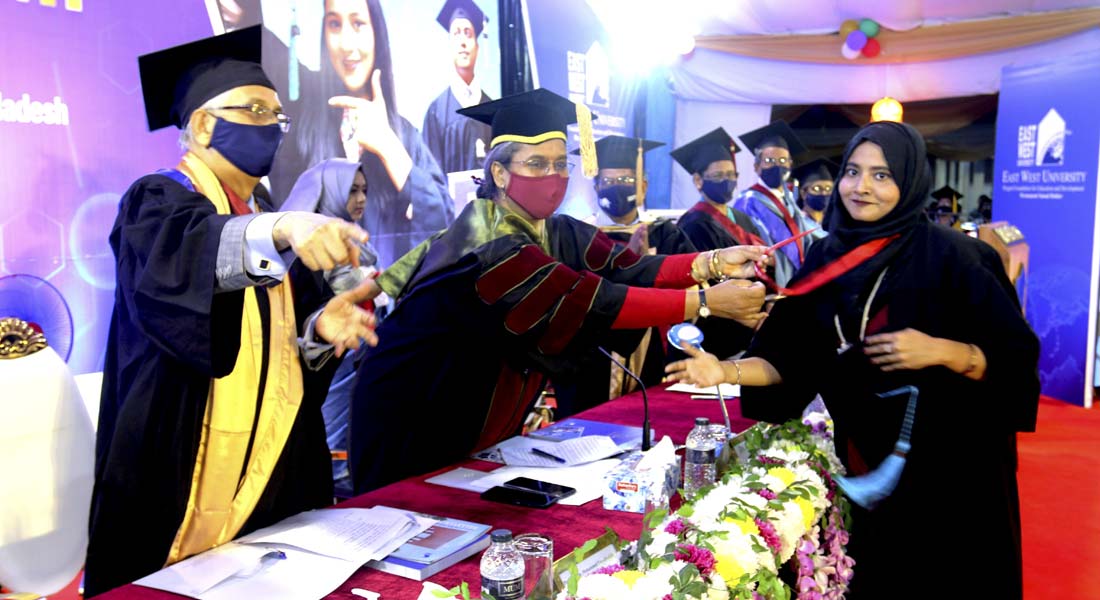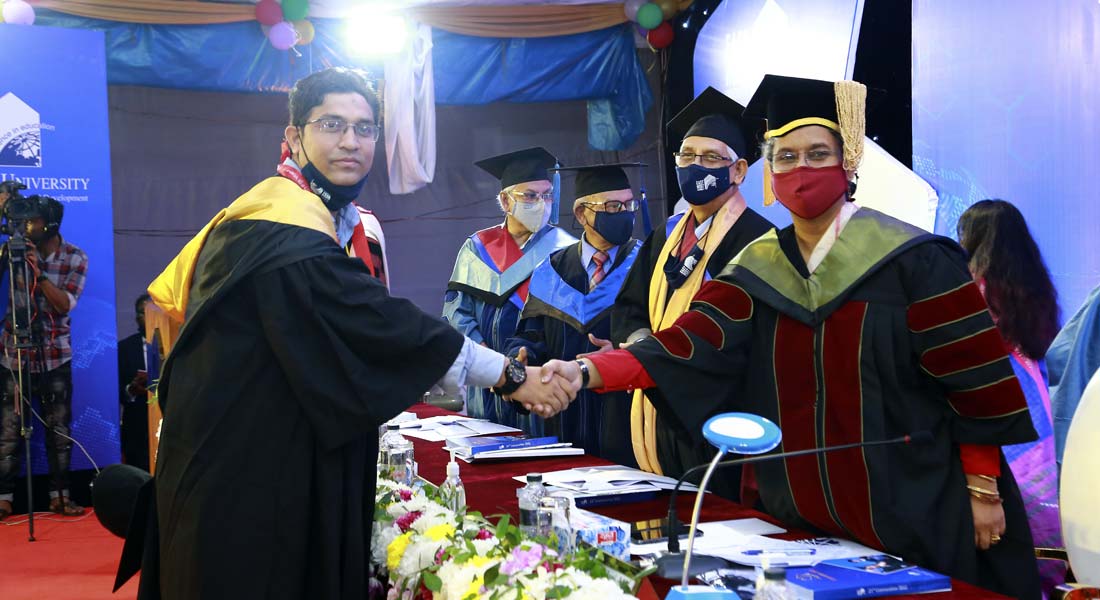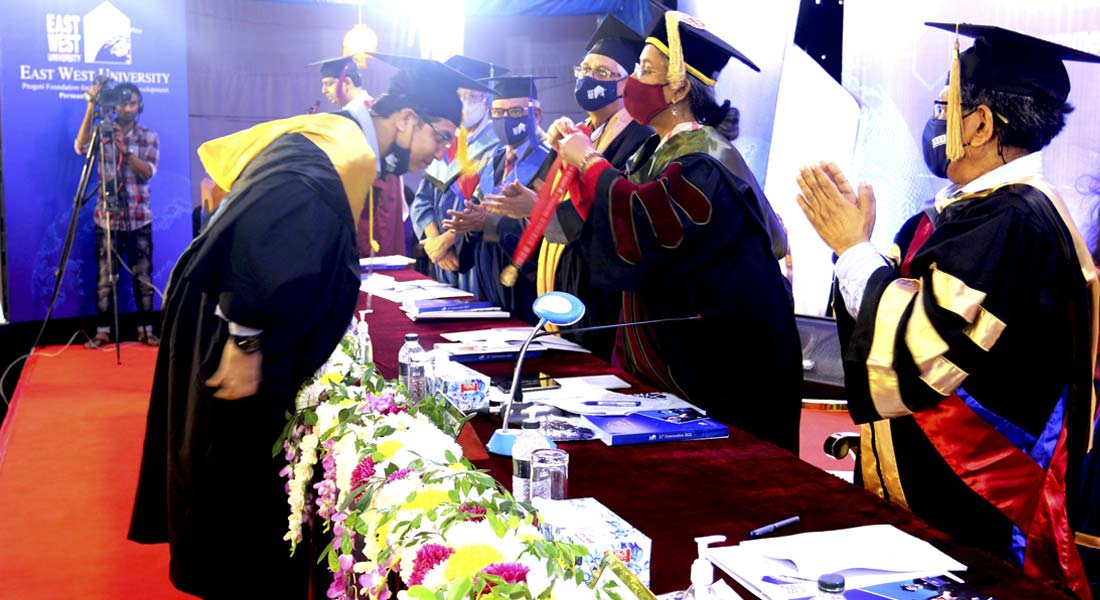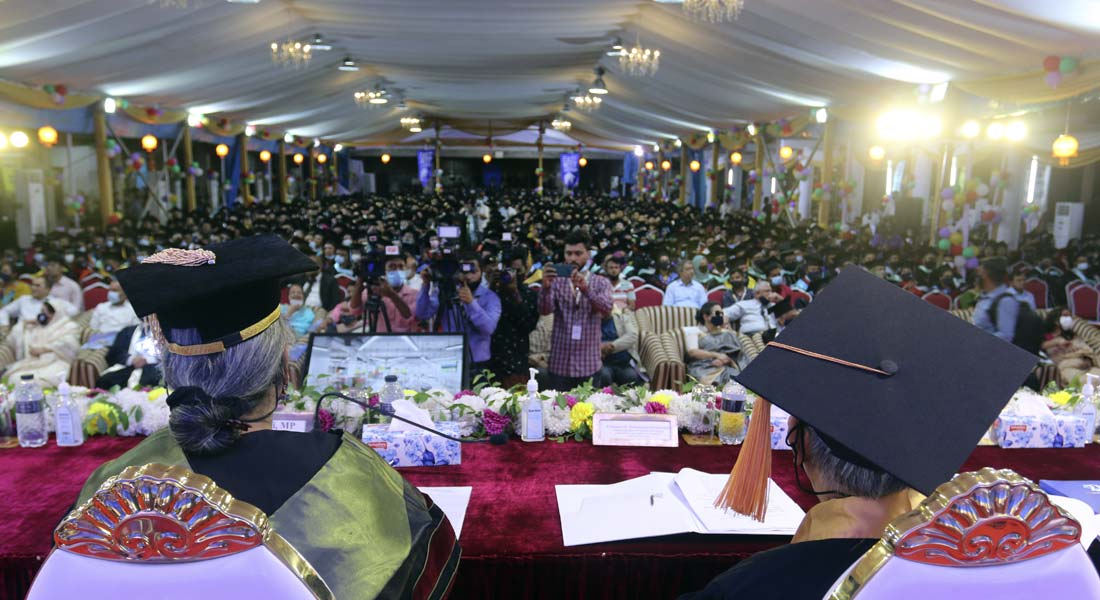 East West University (EWU) organized its 21st Convocation on Tuesday, 10 May 2022 at its own campus, Aftabnagar, Dhaka. As the representative of the Honorable President of Bangladesh, Education Minister Dr. Dipu Moni MP conferred degrees among students. In total 1693 students from both undergraduate and graduate programs received their certificates. Besides, two students were awarded the prestigious Gold Medal for outstanding academic performance.
In the ceremony, Dr. Dipu Moni said that the post-Covid world has changed significantly. She mentioned that steps have been taken to reform the education sector to develop skilled manpower. In this master plan, e-learning has been highly emphasized. She advised the graduates to overcome all the hurdles and not to lose hope. Although the two-year pandemic period has shown the brutal side of the world, she expects that the graduates will show humanity along with honesty and expertise in their professional lives.
Prof. Dr. Dil Afroza Begum, Chairman (In Charge), University Grants Commission of Bangladesh was present at the convocation as the Special Guest. Dr. M. A. Sattar Mandal, Professor Emeritus, and former Vice Chancellor of Bangladesh Agricultural University, Mymensingh graced the occasion as the Convocation Speaker. In his speech, the Convocation Speaker mentioned, "Because of the 4th Industrial Revolution, many physical labor-oriented professions will be extinct and other time-saving professions will emerge. I believe the universities in Bangladesh will continue their effort to develop and speed up academic activities to create future-oriented human resources in agricultural, industrial and other service sectors."
Prof. Dr. Mohammed Farashuddin, Chairperson (Acting), Board of Trustees, EWU and founder Vice Chancellor of the university said a lot of things about the journey and facilities of EWU. He mentioned, EWU has been providing scholarships worth more than one crore taka monthly. Moreover, in order to stand by the side of struggling parents fighting against the deadly Covid 19 since March 2020, the decision of reducing 20% tuition fees of the students has been taken. This benefit will be available to both the running students and the students intending to be admitted into this university till December 2023. Being inspired by love and dedication to the country, nation and society, East West University, out of its liability, has taken all the steps in favor of the students, and through providing laptops, it has also enabled the less-capable students for online classes for the continuation of studies. During the pandemic situation, East West University continued performing its regular responsibilities of paying full salary, allowances, and medical facilities to all its faculty members, officers and staff.

The activities of East West University started in the middle of 1996. A golden-hearted engineer cum friend put his failed six-storied garment's building, 23 Mohakhali on rent for only 5taka per sqft. Along with being the members of Pragati Foundation for Education and Development, Vice Chancellor- Prof. Mohammed Farashuddin, Treasurer- Syed Manzur Elahi and Registrar- S. M. Nowsher Ali started serving EWU without taking any salary. Dr. Farashuddin's teacher Kalinarayan Scholar Mr. Golam Mostafa joined as the Dean of this university. The journey of East West University started with 4 employees and 20 students (only 3 of them were females) only. Unfortunately, 2 of the 20 students dropped out. Honorable Mayor Mr. Hanif kindly renovated the broken road in front of the campus building. The member of the parliament of the locality Mr. Rahmatullah along with some distinguished neighbors of that area helped us to ensure a university-friendly environment out of an area which was full of chaos and deadly drugs. Because of the very low expenditure and skilled management, East West University, from the very first semester, started accumulating extra money in the funds. Through showing due respect and trust to its honest, transparent, and student-friendly teachers, East West University's gradual and steady growth was accompanied by the Chairman of the Academic Council, Prof. Dr. Wahiduddin Mahmud and members Prof. Dr. Jafar Iqbal, Habibullah Karim and Syed Manzoorul Islam. Today this university has almost 11 thousand students (40% of them are females) and 300 full-time faculty members (100 of them are PhD degree holders).
Prof. Dr. M. M. Shahidul Hassan, Vice Chancellor, EWU also gave his valuable speech on the occasion.
Members of the Board of Trustees, Pro-Vice Chancellor, Treasurer, Deans, departmental chairpersons, faculty members, officers, staff, graduates, and their guardians participated in the convocation. The graduates were delighted to receive their certificates in due time.